"Gluten free" seems to have become a buzz phrase in the healthy community. I went to nursing school 13 years ago and only remember a vague conversation during my pediatric rotation about celiac's disease. Several years later I heard about it again when a co-worker suspected that she had it due to her violent reactions any time she drank beer.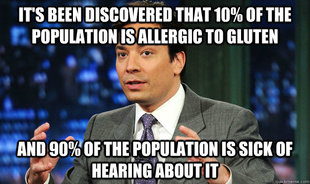 So when gluten free books and products started popping up a few years ago I was familiar with it. I've had several friends who have been diagnosed and a few friends whose children have been diagnosed. I always thanked my lucky stars that I didn't have any problems with it! I love bread. If it crumbles, I love it. Cookies, cakes, pie crusts (the best part of chicken pot pie!), pasta, doughnuts, and the list goes on.
And then I started reading a few gluten free books and connecting the dots between wheat and my GI problems. I have a lot of gas issues, rumbling stomach issues (impress your friends: the medical term for a the stomach gurgles is borborygmi), indigestion from Hades, diarrhea, and more recently constipation. I've always had what I considered a "sensitive" stomach. It started back in high school when I would get sick on my stomach every day after lunch. I finally pinpointed the cause--the cafeteria pizza. I would get horrible gas and my stomach would rumble so loudly that it was embarrassing. So I stopped eating lunch.
Then I went off to college and the same problem resurfaced except it was after breakfast every single day. I would head off from the cafeteria to my 8AM class and my stomach would start to gurgle and rumble so loudly that I would sometimes have to leave class from embarrassment. Sometimes I would pass it off as hunger growls but it was loud and violent at times.


I went to a doctor because I thought it may be lactose intolerance. He thought it was stress. My solution ended up being to skip breakfast. It didn't seem to bother me as much after lunch or supper--breakfast seemed to be the one meal that triggered it the worst. What had I been eating every morning? Homemade waffles.
Fast forward 15 years to last week's cleanse. I didn't eat bread/grains for about five days. Then I ate two pieces of 12 grain bread and all hell broke loose in my stomach. It was awful. I felt awful. My stomach turned and rumbled like I had a Cullen baby in there trying to break it's way out.
Last week I started doing more research and more thinking about my triggers. Pizza...waffles...bread. Hmmm. Maybe I'm sensitive to gluten? Nah. Couldn't be. I mean, like I said, I LOVE bread. But since I started paying more attention to my symptoms I'm beginning to see a link between certain bread products and my tummy troubles. I don't believe I have all out celiac disease. I think I may fall into what is termed as "Non-Celiac Gluten Sensitivity."
I really don't want it to be true! Is a life without my sister-in-law's homemade cakes worth living?! If you think it is then you obviously haven't had her hummingbird cake!
My sister-in-law has got some mad skills.
I know there are gluten free substitutes but it's not like being able to just eat whatever you want! I've been testing the waters of gluten free living. I'm only eating wheat if it is something that I really, really want. (Or to put it bluntly, "Is this worth the possibility that I'll have diarrhea in the next hour?") So far I've had what I believe to be a "reaction" (i.e. diarrhea, stomach pains and bloating) to Cheerios, white bread, 12 grain bread, pancakes, and pizza crust. And none of those are worth diarrhea. Homemade sourdough bread from The Bread Lady? Yes. Cheerios? No.
I'm going to keep researching it out and I'm going to do a gluten free trial and see if my symptoms improve. I'd love to hear from gluten free readers. What was the hardest part about going gluten free? Where do you buy your gluten free products/flour? What type of symptoms do you have when you have wheat? Tell me anything and everything you know!